What is flipping you ask?  It's a business term associated with the practice of buying a house and "flipping" it for a profit. In the case of dog flipping, people are adopting dogs and "flipping" them, or selling them–usually over the internet on sites like Craigslist and Angies list–for $50, $100, sometimes $500 dollars. And it's perfectly legal.Some dog flippers even advertise their desire for a new dog on social media sites and newspapers. Their nefarious motives are commonly concealed by a sob story:  "We just lost our dog and have been heartbroken for months, but now we think we're ready to love again," this kind of thing.

How do you know if the person interested in adopting your dog or puppies is a dog flipper? Charge your adopter a fee–enough to cut into any perceived profit margin.  Dog flippers are looking for free or cheap animals to maximize their profits.

Better yet, if you must surrender your dog for any reason, try to adopt him to a trusted friend, relative, or colleague–not a stranger that recently heard of your situation. If that fails, contact a rescue group or no-kill animal shelter like Animal Samaritans, Humane Society of the Desert, Save-A-Pet, Loving All Animals, or Living Free.

And of course, spay and neuter your dogs early so you'll never have to worry about finding safe and loving homes for a litter of unwanted puppies.
Lucy's Law Passes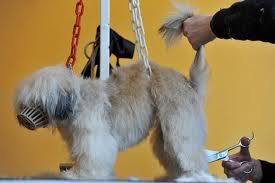 The Pet Grooming Act SB 969 has passed through California's State Senate committee. If enforced as intended, Lucy's Law will ensure that all pet groomers are properly certified before working with animals, and consequently that pets do not suffer injury or abuse at the hands of untrained groomers.
The law is named in honor of a local dog who was seriously injured by a dog groomer.  For more information see the recent article in The Desert Sun.
California Senate passes bill for pet groomer certification
Meet Beatrice
Hey Guys! Hey Girls!  Hey Everyone!  I'm Beatrice the beagle/terrier mix and I like everybody!  I'm smart, affectionate, and playful. I'm the best trail driving, couch-lounging, ball-fetching buddy you could ask for. And I'm available for adoption. I just have one request: I'm not crazy about my name (it's way too formal for my personality), so I'd like you to rename me something cool like… Shazam… or Bebe LeWoof… or Beyonce!
Meet Beatrice at Animal Samaritans' shelter, which is located at 72307 Ramon Road in Thousand Palms. It's open Tuesday through Friday from 9am – 12pm & 1pm – 4pm, and Saturday's from 9:30am – 3:30pm. Questions? 760-343-3477 x4